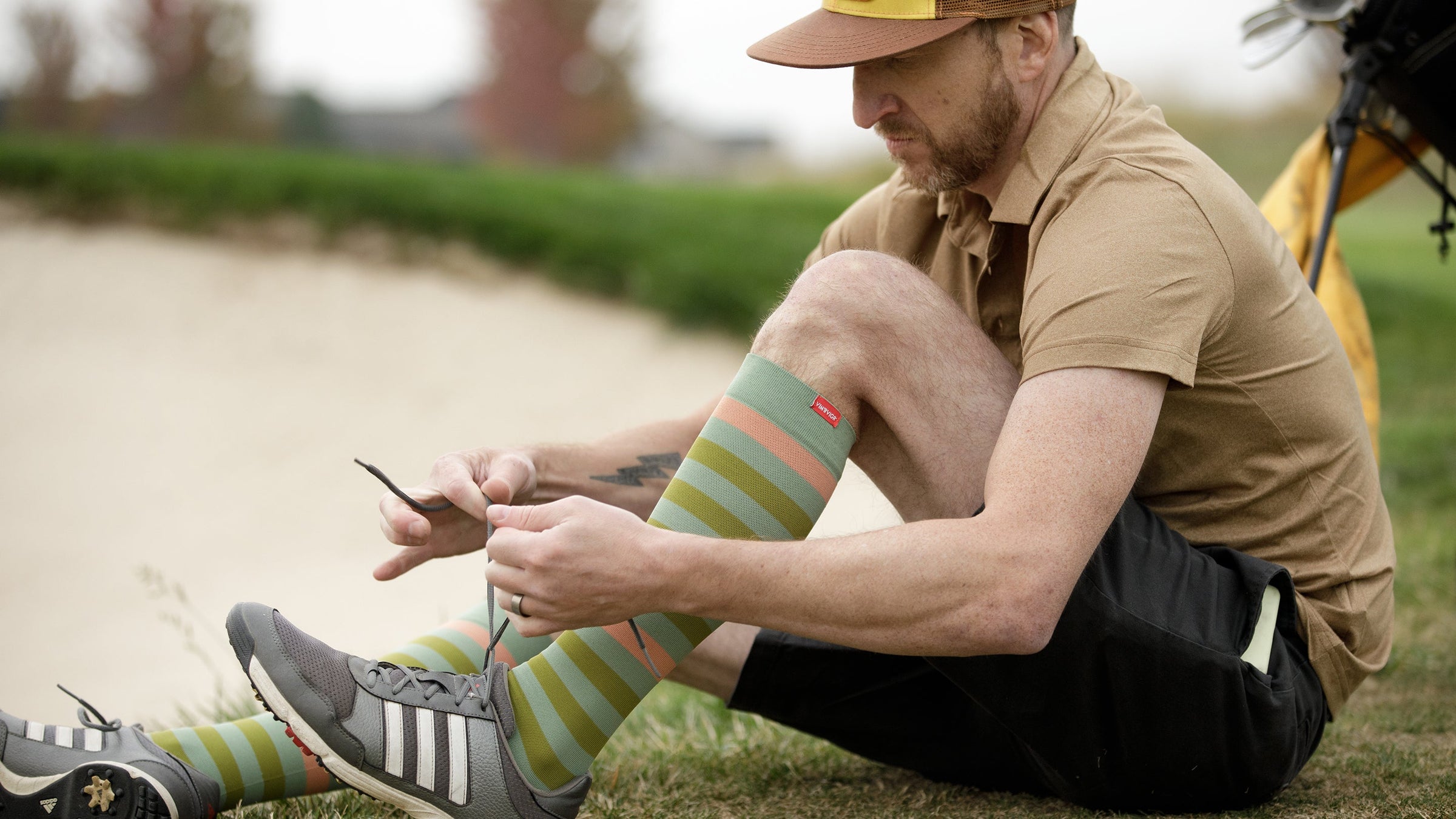 Men's Wide Calf Compression Socks
Our Men's Wide Calf Collection is ideal for men with large calves. If you are tired of knee high compression socks pinching and digging in your calves, you may just have the wrong size for your calves! Our Men's Wide Calf Collection will fit a calf circumference between 18" to 22" and come in an array of stylish patterns and comfortable fabrics. All of the items below have a Wide Calf size option. Please choose the Wide Calf size if you wish to order men's compression socks for large calves.
Our men's wide calf compression socks come in 4 unique fabrics that are as follows:
Cotton - Our cotton compression socks are made on a 200 needle count knitting machine. This knit allows superior breathability and a stretchy feel to traditional compression socks. Our cotton socks are remarked as being some of the most comfortable men's wide calf compression socks.
Nylon - Our nylon compression socks are known for their smooth and buttery finish. Our classic Nylon is knit on a 400 needle count machine which allows for a honey comb like knit. This allows for a 4 way stretch in our knee high compression socks making them superior for athletic performance. Our all new choice nylon is that same fabric, but knit on a 200 needle count machine. This creates a softer feel and eliminated the toe seam that comes with the 400 needle count knit. 
Merino Wool - Our merino wool compression socks are perfect for cold and wet conditions. Merino wool is know for it's quick drying ability. It is ideal for outdoor activities and is durable enough to be used for many seasons to come.
Moisture Wick Nylon - Our Moisture wick nylon compression socks use a different fabric blend than our other nylon socks. This fabric is a best seller for people who work long shifts on their feet. It's 400 needle count knit allows for a 4 way stretch and smoother feel, and the fabric wicks the moisture right after your feet. 
All of our fabric blends are latex free, and we have a 100% satisfaction guarantee. Find your perfect men's wide calf compression socks today!  
Check out our other Stylish compression Options