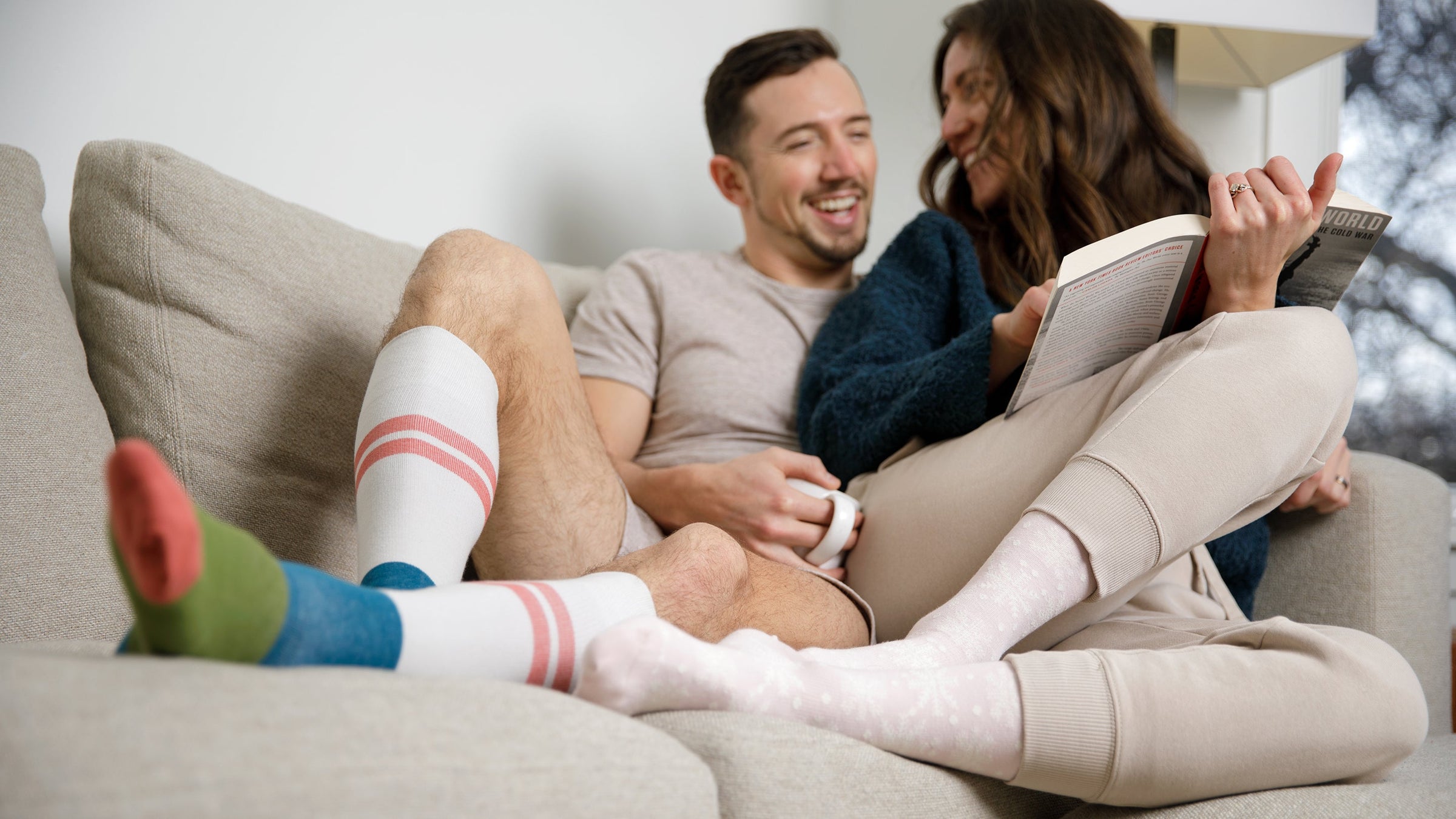 Merino Wool Compression Socks
Compression socks help decrease leg swelling and are great for women suffering from sore and swollen legs. Ours take relief and comfort even further by adding the element of style.
VIM & VIGR wool compression socks are made with Merino wool, which offers breathability and moisture wicking. With a variety of styles and colors -- from classic and conservative to vibrant -- we've taken our idea of "Everyday Compression, Everyday Wellness" and elevated it to new heights of fashion.


Men's Merino Wool Compression Socks
For Athletes
Our Merino wool socks support your muscles after a hard workout or race. These comfortable performance socks for women are perfect for athletes and hikers. Wear our socks during and after intense exercise, and you'll find that they can help speed your recovery by reducing the swelling and muscle soreness many people sometimes experience after a workout or hike.


For Travel
Our knee high compression socks are great for travelers as well. Leg swelling can occur during a flight, so it's important to wear a graduated compression sock on the plane. If your legs are often sore and swollen after a long flight, these comfortable socks can help by improving the circulation in your legs. Merino wool compression socks are often travelers' favorites for their temperature-regulating abilities. 


For Medical Use
Our Merino wool compression socks are perfect for women with varicose veins who need compression therapy. Women with poor circulation, whether it's due to pregnancy, diabetes or another cause, can benefit from wearing our graduated compression socks. Featuring 20-30 mmHg compression, our compression socks are designed to be comfortable while increasing blood circulation.


Weaving Style and Quality into Therapeutic Threads
Our comfortable socks are known for their quality, softness and comfort. Caring for our compression socks is easy, just wash in cold water and hang to dry. And with the amazing array of fun colors and patterns we have available, there's no reason to sacrifice fashion for the compression therapy you need. Find your style, check the size charts to ensure the best fit, and order today!
Check out our other Stylish compression Options