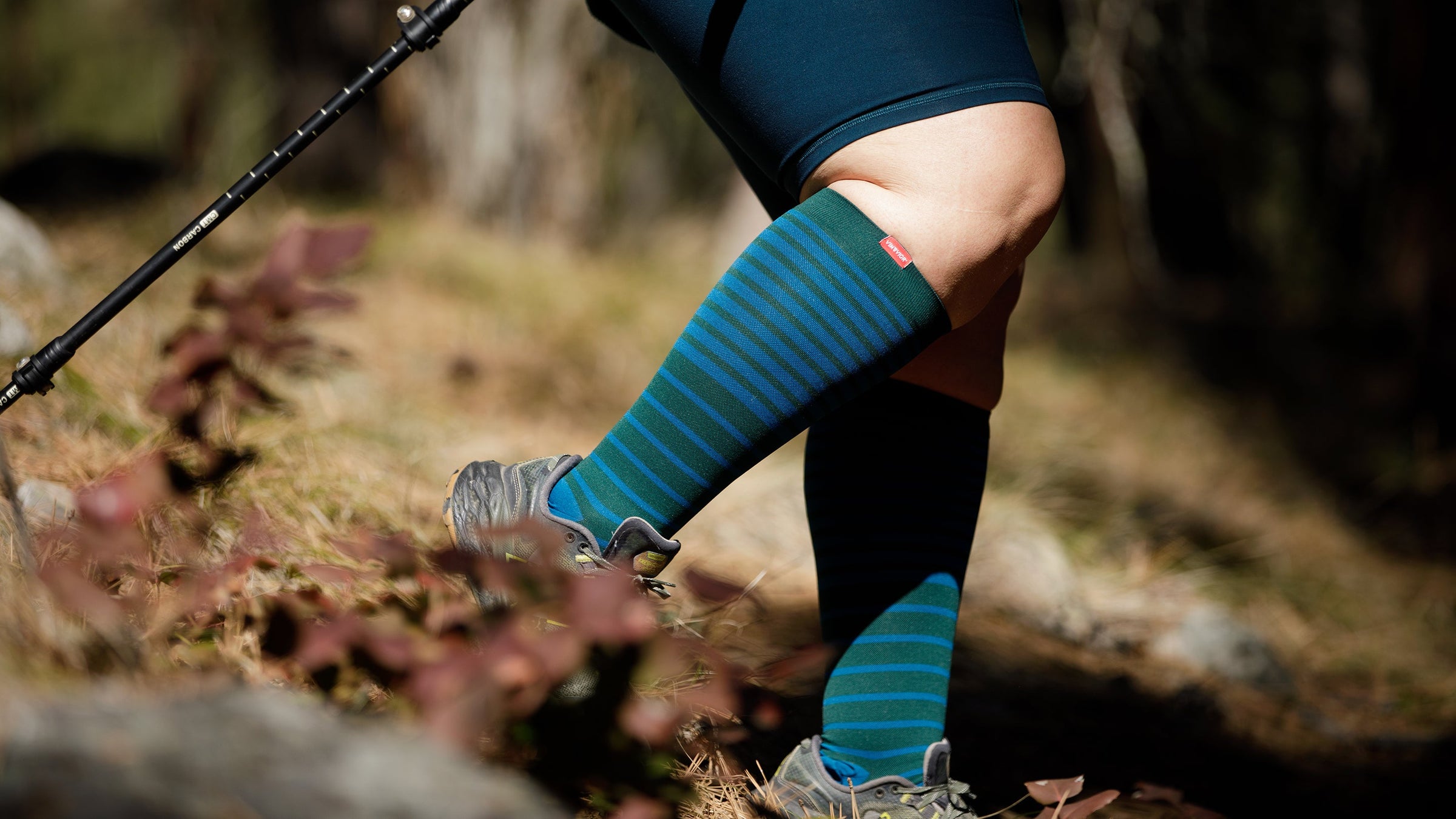 Women's Wide Calf Compression Socks
Our women's wide calf compression sock collection will fit a calf circumference between 17" to 21."  We are constantly pushing ourselves to push the boundaries with fashionable plus size compression for women, and our wide calf compression socks are no different. Our wide calf compression socks come in our 4 different fabrics, and 3 different compression levels (15-20 mmHg, 20-30 mmHg, 30-40 mmHg).
Our 4 different fabrics for compression socks for wide calves are as follows:
If you are looking for compression socks for large calves, Check out our size guide to determine which size is best for you - We are proud offer patterns that will suit most styles, with free returns and exchanges to get the perfect fit.
Benefits of Women's Wide Calf Compression Socks
Energize your legs
Reduce swelling
Alleviate achiness & heaviness
Aid in muscle recovery
Ease discomfort
Prevent varicose veins
Protect the overall health of your legs
The main difference between compression socks and regular socks is that the former play an important role in supporting your circulatory system and leg muscles. They are often prescribed by medics in specific cases when someone suffers from circulatory problems, as well. On the other hand, regular socks have no particular properties to enhance the wellbeing of those who wear them. Many women must wear compression socks for a variety of reasons, and our wide calf variety has proven to be useful for preventing and aiding many. 
In conditions like lipedema, one of the key symptoms is swelling in the legs, doubled up by pain and discomfort. Compression therapy reduces pains and aches in the lower extremities, while bringing down inflammation and swelling. Some people who experience extreme swelling benefit from the comfort of our women's wide calf compression collection.
If you are new to wearing knee high compression, we recommend starting with our 15-20 mmHg compression level, and consulting with your doctor as you move up. You can read more about the benefits of compression socks on our blog, and make your choice on which wide calf compression sock is right for you.
Check out our other Stylish compression Options