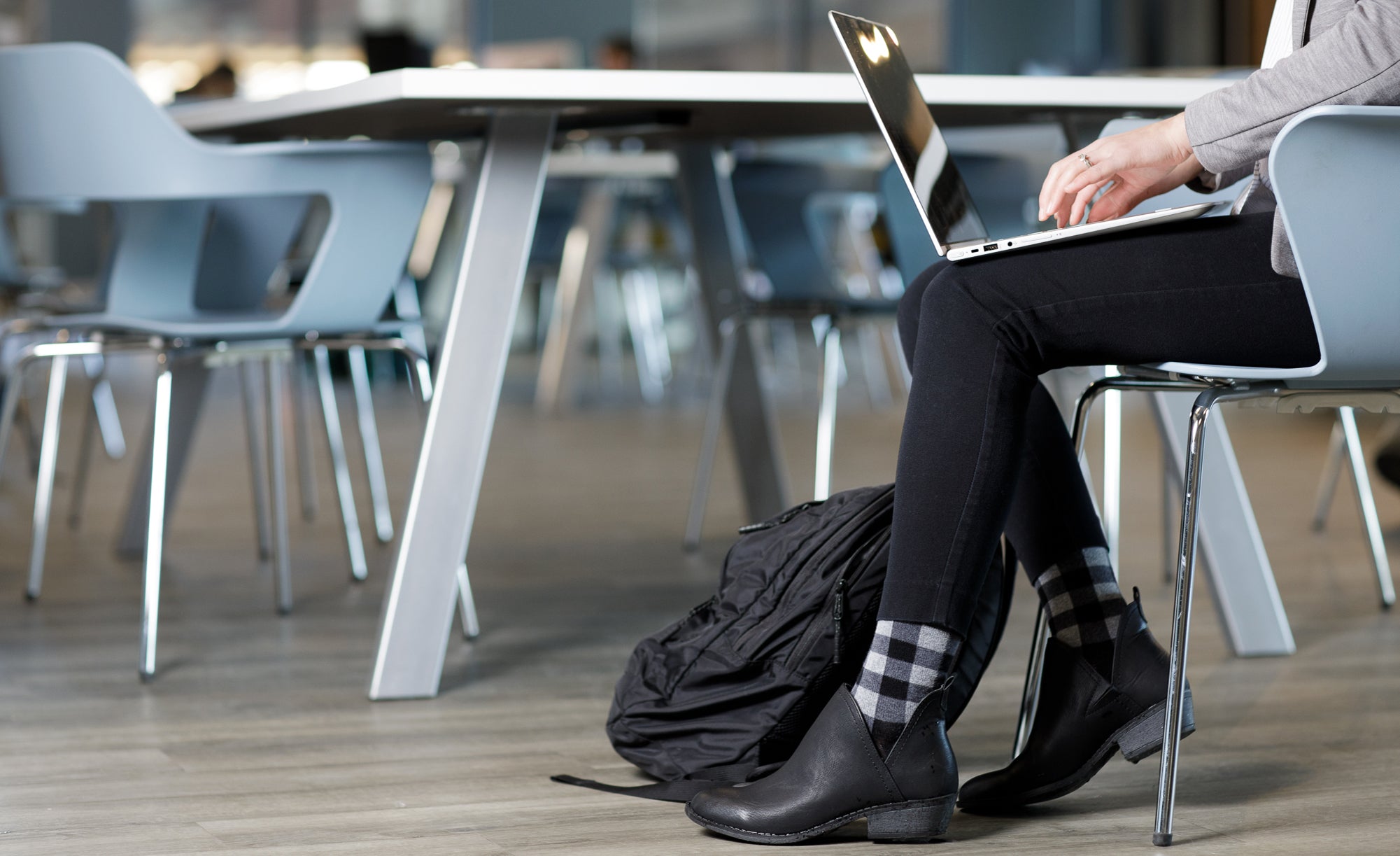 Women's Cotton Compression Socks
Compression socks aren't just for older people and those with existing health problems. They are also an ideal option for workers who are sick of tired and sore legs at the end of the day, or those who deal with excess fluid buildup and swelling in their lower legs. Our cotton compression socks are the perfect choice for people who want the support of compression socks with the soft comfort of cotton.
Plus, with cotton compression socks in vibrant colors and gorgeous patterns, you can still show off your own unique sense of style!
Women's cotton compression socks
Men's cotton compression socks
How Do Compression Socks Work?
The way that cotton compression socks help is by improving your circulation. Throughout the day, when you spend a lot of time on your feet, the blood in the body tends to pool in the lower leg region. This can cause you to feel tired, drained, and dizzy, and increases water buildup and retention, also known as edema.
For those who are prone to blood clots, wearing compression socks can be an important part of maintaining a healthy balance and preventing clots from forming. They are ideal for all types of people of all ages, so you're never too young or too old to be wearing cotton compression socks.


Other Benefits of Compression Socks
Compression socks are ideal for a wide range of health conditions. They not only help to increase circulation throughout the entire body, but they also help with edema, fluid retention, and blood clot formation, as well as preventing tiredness and achy feet from a long day at work. Those who deal with dizziness and vertigo may make use of these socks because increasing the circulation can help prevent dizzy spells and feelings of vertigo.
How to Wear Compression Socks
The best way for you to wear compression socks is to choose a material that works well for you. People who prefer the feel of natural fibers will often choose cotton compression socks. However, there are lots of different materials available that will make it easy for you to get the benefits of compression socks in a way that is right for you and your style. You will want to put the cotton compression socks on from the toes up. This helps the socks to compress the area evenly and without bunching or feeling too tight in any particular area.


Washing and Laundering
These compression socks will last for many wears with proper care. Wash cold, delicate and hang to dry.


Benefits of Cotton Compression Socks
It is actually rather unusual to find compression socks that are made from cotton, but at VIM & VIGR, we are pleased to be able to offer this option to our customers who prefer it. The reason a lot of people choose cotton compression socks over compression socks made from other materials is because of cotton's breathability. Cotton is soft, and can feel more like a normal sock.
No matter why you choose cotton compression socks, It is important to purchase a high-quality product that is going to last for a long time. With careful laundering and proper use, you will enjoy your socks for years to come.
Whether you are someone who spends a lot of time on their feet and you need a way to relax and feel comfortable or you're someone who is more prone to blood clots, these types of socks are an ideal choice for your needs. Once you've worn our cotton compression socks and enjoyed their benefits, you might never want to go back to another kind of sock ever again!
Check out our other Stylish compression Options